中文教育网简介

Estudychinese.com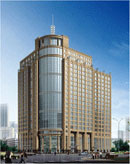 "中文教育网"是一家全球性的超大型汉语教学网站。在这里,您不仅可以全面的了解中国的历史、地理及风土人情,还可以大幅度的提高您的汉语听、说、读、写能力。网站通过精心设计的在线汉语教学体系,运用翔实的讲解、具体的事例、独特的展示、详尽的资料帮助大家迅速了解和掌握汉语知识,为全世界汉语需求者提供质量最高、效果最好的网上汉语教学服务,打造一个完美的网上汉语学习环境。
www.estudychinese.com serves as a leading Chinese online learning website, from which you can learn about all aspects of Chinese history, culture and customs , as well as improve your ability for listening, speaking, reading and writing in Mandarin. This website can help you to understand and grasp Chinese linguistics in a quick way, through accurate explanation; specific examples; unique presentation; and detailed lecture materials. It provides highly effective Chinese online learning services, and creates a rich online learning environment.
公司简介

China Distance Education Holdings Limited

China Distance Education Holdings LimitedChina Distance Education Holdings Limited (NYSE: DL) is a leading provider of online education in China focusing on professional education. The online courses offered by the Company are designed to help professionals and other course participants develop and maintain the skills, licenses and certifications necessary to pursue careers in China in the areas of accounting, law, healthcare, construction engineering, and other industries. The Company also offers online test preparation courses to self-taught learners pursuing higher education diplomas or degrees, and to secondary school and college students preparing for various academic and entrance exams. In addition, the Company offers online foreign language courses and offline business start-up training courses.

Our Vision
To provide our students with all their Chinese-related professional education and lifetime learning needs by using our cutting edge technology and student-focused platform.

Our Mission
To empower our students to pursue better futures by helping them choose the right career paths and by being their lifelong learning partner regardless of their chosen career paths.
联系我们

Contact Us

China Distance Education Holdings Limited
Address:Room 1806, #1 Zhichun Road, Haidian District, Beijing, PRC
Zip Code:100083
Tel: +86-10-82337788
Fax: +86-10-82330766
E-mail address:estudychinese@gmail.com
公司风采

Company Profile