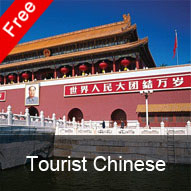 This course is designed for foreign travelers in china. The aim of the course is to enable students to use simple daily Chinese and solve the problem of dealing with daily issues such as food, accommodation, transportation, or emergency situations during travel. The language of the course is practical and close to daily life. This course is suitable for the Chinese learning beginner.
Teacher:

Han Jiachen

Demo:

Demo

Duration:

15 hours

Class time:

30 days

Price:

$0 (USD)
Tian he
As a Master of Teaching Chinese to Speakers of Other Languages in Beijing Language and Culture ..... Details
Course chapter
Lesson 1

汉语简介(Brief Introduction to Chinese & Course Overview)

Lesson 2

自我介绍(Self Introduction)

Lesson 3

询问信息(Ask for Information)

Lesson 4

请求(Request)

Lesson 5

感谢和称赞(Thanks and Praise)

Lesson 6

道歉(Apologize)

Lesson 7

在飞机上(On the airplane)
Lesson 8

在机场(In the Airport)

Lesson 9

在酒店(In the Hotel)

Lesson 10

在餐厅(In the restaurant)

Lesson 11

在商店(In the shop)

Lesson 12

在银行(In the bank)

Lesson 13

在交通工具上(On the transportation)

Lesson 14

在医院(In the hospital)
Advantages
Ideal Virtual Classroom

Video, images, sound, text; synchronous transmission, Media/Real/Flash, audio effects - free for you to choose.

Flexibility and Convenience

Breaking through time and space constraints, you can learn Chinese whenever and wherever you choose with a tailored pace.

Expert Faculty

Our Chinese teachers have rich experience and a good understanding of foreign learners' thinking patterns; they will show you an amazing way of learning Chinese.