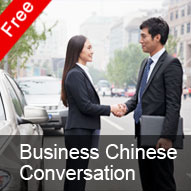 This course is designed and tought by the veteran Chinese teachers whom have various business experiences. It meets the need of people who want to speak Chinese in business conversations confidently. By learning this course, students will master the most useful expressions in real business world.

Teacher:

Ran Ze

Demo:

Demo

Duration:

10 hours

Class time:

30 days

Price:

$0 (USD)
Ran Ze
Ran Ze graduated from School of Chinese as a Second Language, Peking University..... Details
Course chapter
Lesson 1

商务会面
(Business Meetings)

Lesson 2

介绍产品
(Introducing Products)

Lesson 3

分析公司业绩
(Analyzing Corporate Performance)

Lesson 4

分配工作
(Assigning Work)

Lesson 5

批评和鼓励下属
(Criticizing & Encouraging Subordinates)

Lesson 6

同意和反对
(Agree and Disagree)
Lesson 7

接受和拒绝
(Accept and Reject)

Lesson 8

请求帮助和提供帮助
(Asking for Help & Offering Help)

Lesson 9

商定合同
(Discuss and Agree on a Contractr)

Lesson 10

面试
(Interview)

Lesson 11

商务致辞
(Deliver Business Speeches)
Advantages
Ideal Virtual Classroom

Video, images, sound, text; synchronous transmission, Media/Real/Flash, audio effects - free for you to choose.

Flexibility and Convenience

Breaking through time and space constraints, you can learn Chinese whenever and wherever you choose with a tailored pace.

Expert Faculty

Our Chinese teachers have rich experience and a good understanding of foreign learners' thinking patterns; they will show you an amazing way of learning Chinese.