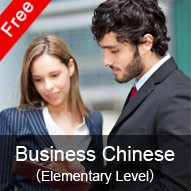 Designed for learners with basic Chinese speaking ability, the course aims to lay a good foundation for students' future business activities when conducted in the Chinese language. It teaches basic Chinese business vocabulary, special sentence patterns and related knowledge used in business activities, including introductions, travel, telephone conversation, negotiation, banquets, etc.
Teacher:

Bi Huihui

Demo:

Demo

Duration:

15 hours

Class time:

30 days

Price:

$0 (USD)
Bi Huihui
Bi Huihui has long engaged in the research of Chinese as a foreign language,she has ..... Details
Course chapter
Lesson 1

打招呼(Say hello)

Lesson 2

互相介绍( Let's introduce each other )

Lesson 3

去机场( Go to airport )

Lesson 4

订宾馆( Hotel reservation )

Lesson 5

在宾馆( In the hotel )

Lesson 6

在经理办公室( In the manager's office )

Lesson 7

打电话( Making a phone call )
Lesson 8

商务会谈( Business negotiation )

Lesson 9

洽谈生意( Negotiate business )

Lesson 10

商务宴会( Business dinner )

Lesson 11

辞行告别( Say good-bye )
Advantages
Ideal Virtual Classroom

Video, images, sound, text; synchronous transmission, Media/Real/Flash, audio effects - free for you to choose.

Flexibility and Convenience

Breaking through time and space constraints, you can learn Chinese whenever and wherever you choose with a tailored pace.

Expert Faculty

Our Chinese teachers have rich experience and a good understanding of foreign learners' thinking patterns; they will show you an amazing way of learning Chinese.